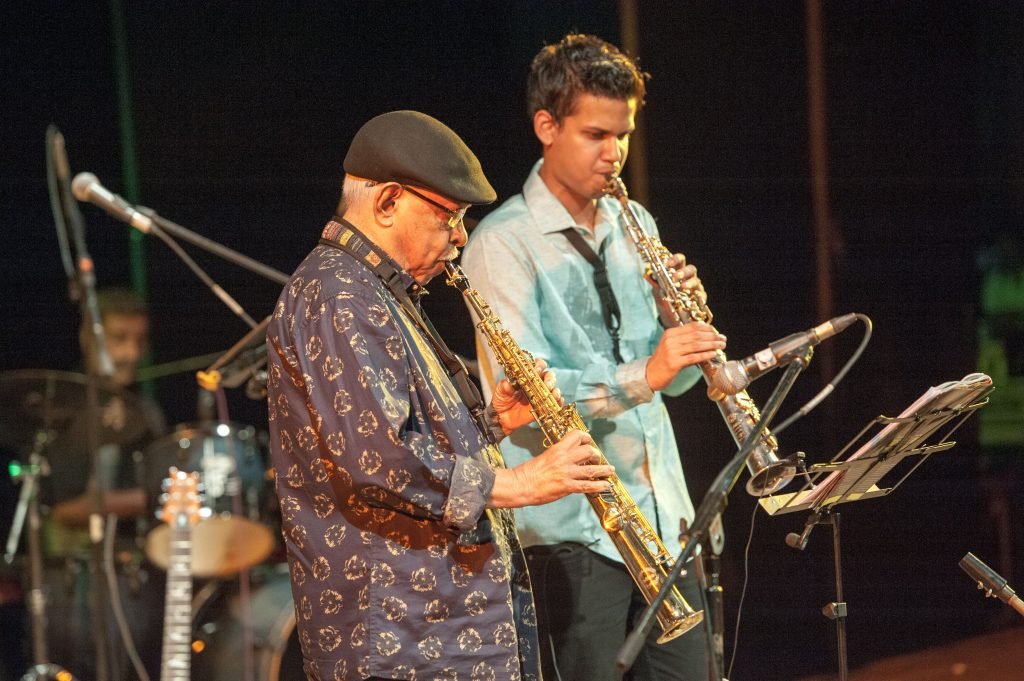 Braz Gonsalves é, na Índia, sinónimo de jazz goês. Das escolas de música paroquiais em Goa para os palcos do jazz indianos e daí para a Europa, em várias tours internacionais, foi um ápice. Um acidente fê-lo repentinamente deixar o jazz, durante 40 anos. Agora, com 88 anos, este mestre do saxofone quer voltar a dar vida à música única que criou – uma fusão entre os ragas indianos e o jazz. A acompanhá-lo em palco, também vindos de Goa, estarão a mulher – Yvonne Gonsalves (voz) – e o neto – Jarryd Rodrigues (saxofone), assim como músicos portugueses no piano, bateria e contrabaixo. Braz fará soar, 40 anos depois, alguns dos temas de um dos seus mais famosos álbuns, "Raga Rock", num revivalismo do jazz de fusão com a música indiana; não deixando de dar um passeio por alguns dos standards mais proeminentes da História do Jazz. 
Braz Gonsalves is, in India synonymous with Goan Jazz. From the parochial music schools in Goa to the Indian jazz stages and from there to Europe, on several international tours, didn't take long.
An accident made him suddenly leave jazz for 40 years. Now at 88 years old, this saxophone master wants to bring the unique music he created back to life – a fusion of Indian ragas and jazz.
Accompanying him on stage, also from Goa, will be his wife – Yvonne Gonsalves (vocals) and his grandson – Jarryd Rodrigues (saxophone), as well as Portuguese musicians on piano, drums, and bass.
Braz will play, 40 years later, some of the themes from his famous album "Raga Rock", in a revival of jazz fusion with Indian music; not forgetting to take a tour of some of the most prominent standards of the history of jazz.
30th April – HOT CLUBE, Lisboa 
Address: Praça da Alegria, 48
1250-004 Lisboa
4th May – AUDITÓRIO RENATO ARAÚJO, Edifício da Reitoria da Uuniversidade de Aveiro, Aveiro (with tickets)
Address: Campus Universitário de Santiago
3810-193 Aveiro
(Online ticketing BOL)
Price: €3
7th May  – MUSEU DO ORIENTE, Lisboa (with tickets)
Address: Doca de Alcântara Norte, Av. Brasília
1350-352 Lisboa
(online ticketing BOL)
Price: €15