The Magic Box is an attempt to teach children how to reuse waste in a fun way by creating short animation movies.
Our long term goal would be to screen these movies in schools all over Goa to inform them about the importance of waste segregation and recycling in the hopes that they will use these methods at home.
To warm up we teach them to segregate dry waste into 3 categories:
Paper
Glass and metal
Plastic
After the game, they draw in a paper what kind of waste they can use for their imaginary characters.
They will write and draw, just like cartoons, their stories with dialogues.
The next task is to build the characters with the waste available as well as the backgrounds for their stories using cardboard boxes.
Last, we build the box – hence the name magic box – and inside it, we film the movie using stop motion method.
Using a recorder, we record their voices. The story can be written in any language!
If there is time, we teach the children how to edit their movies.
The result is a 30 second to 1 minute movie made entirely by the children.
Ideally we should have in hand 10 hours in hand that can be divided in 5 days so that they can go through all the phases to create a short movie.
When this is not possible, we request the school/institutions for at least 3 hours so that they can:
Write the story
Build the characters and background
Record the voices
In this last case, out team does the filming and editing.  At a later stage, we can come again with the ready made movie!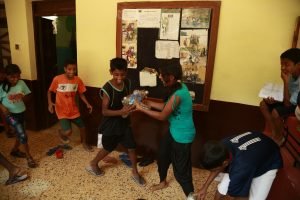 .02 Creating the Characters, Giving them Stories
.03 Building the Characters, Making Backgrounds and Assembling the Magic Box
.05 Recording Readings of the Story